B. Toys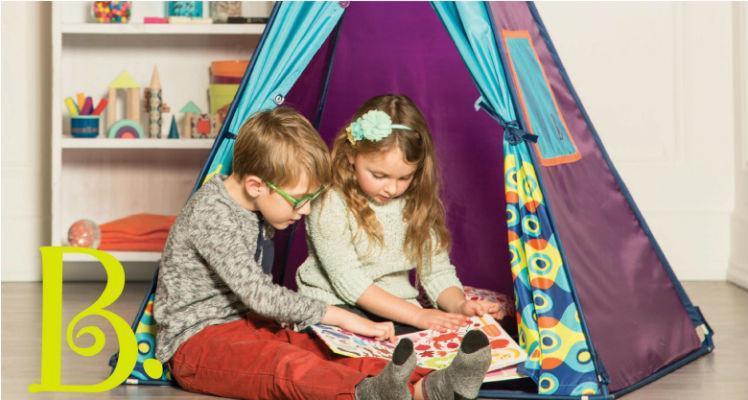 B. Toys have sold for 40 years without TV advertising campaigns. They sell through methods much more powerful: mom-to-mom conversations in playgrounds, teachers' experience in classrooms—and kids' pure enjoyment. B. Toys has built a reputation over the years by delivering high quality, durability, design and value to children of the world.
Children are our greatest treasure and they need to be protected at every turn. Rest assured that all B. Toys go through stringent testing procedures that meet or exceed all U.S., Canadian and the even more stringent European safety standards, all regulations regarding age guidelines, all Consumer Product Safety Commission (CPSC) directives and guidelines, and all regulations of the American Society for Testing and Materials. We then retest products with our own engineers, both on-site during the manufacturing process and again before they are shipped from the factory. Tests, tests and more tests. Trust us.
Getting into one of our boxes is like getting into Harvard.
Are B. Toys BPA free?
Yes. Little kids will stick anything and everything in their mouths, so we take safety very seriously. We are proud to say that all of our toys are now 100% BPA-free.
We used to say our toys were BPA-free in all cases of chewability. In the very first shipments of our toys there were two minor details with BPA: the insides of the light tubes on Times Square and the clear bottom door of Sugar Chute. The tubes had been tested to withstand teeth punctures and the door position on Sugar Chute made it very, very difficult to suck or chew on, but that still wasn't good enough for us. Now there is no BPA even in these tiny parts. 
Go ahead, chew away!
Are B. Toys lead-free and phthalate-free?
Yes. Our toys are lead-free and phthalate-free. They have passed rigorous tests that examine products for unsafe substances per U.S. standards that include lead paint and phthalates. No lead. No phthalates.